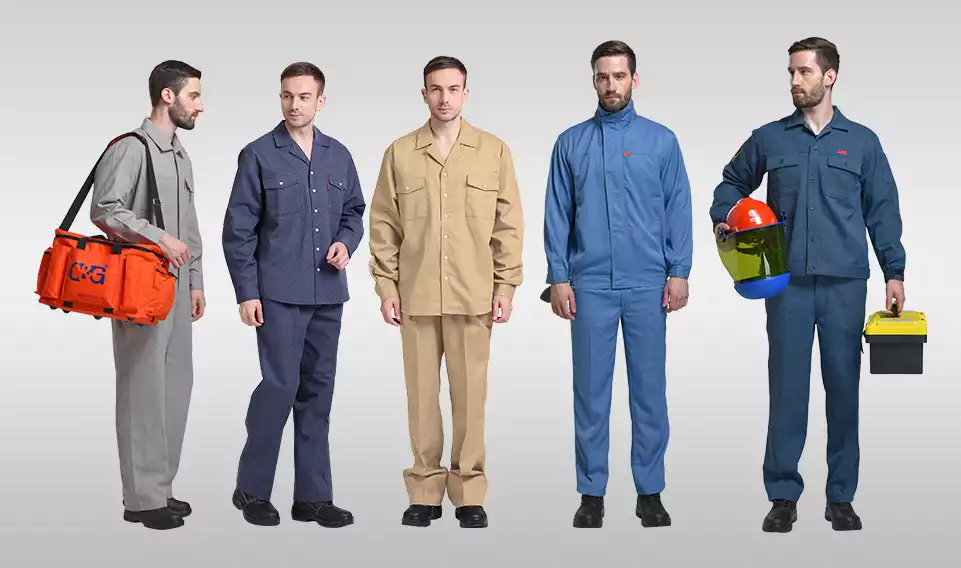 Frequently Asked Questions About 8 Cal Arc Flash Suits
Shanghai C&G's 8 cal Arc flash suits are a popular choice for those in need of protection from electric arcs. These suits come in several different styles, including jackets and pants, shirts and pants, and coveralls. They are available in a variety of colors, including navy blue, medium blue, dark blue, grey, and orange. All of these suits are part of our Level 2 Arc flash protection series. In addition to the standard suits, we also offer arc flash rain gear. All of our suits are made from Dupont® Nomex® Essential Arc or Arcpro Fabric, a flame-resistant fabric that is essential for protection against electric arcs.
At Shanghai C&G, we understand the importance of safety when working with electricity. That's why we offer a range of high-quality arc flash suits that are designed to provide maximum protection against electric arcs. Our suits are made from the best materials available and are designed to meet the needs of professionals who require the highest level of protection. If you're looking for an arc flash suit that provides superior protection and comfort, look no further than Shanghai C&G. Our suits are the perfect choice for those who demand the best in safety and quality. Contact us today to learn more about our products and how we can help you stay safe on the job.
Here are some common questions and answers regarding 8 cal arc flash suits:
1. What is an 8 cal arc flash suit?
An 8 cal arc flash suit is a type of
Personal protective equipment
(PPE) designed to protect workers from the hazards of electric arcs. It is rated for up to 8 calories of heat per square centimeter.
2. What are the benefits of using an 8 cal arc flash suit?
The main benefit of using an 8 cal arc flash suit is protection from electric arcs, which can cause serious burns and other injuries. These suits are also designed to provide protection against heat and flames, making them suitable for use in a variety of industrial settings.
3. How do I know if I need an 8 cal arc flash suit?
The need for an 8 cal arc flash suit depends on the level of risk in your specific industrial setting. If you work with electrical equipment and machinery, you may be at risk of electric arcs and should consider using an arc flash suit. It is important to assess the level of risk and select the appropriate level of protection.
4. How often should I replace my 8 cal arc flash suit?
8 cal arc flash suits should be replaced periodically, depending on the level of use and wear and tear. It is recommended to limit the use of these suits to 5-8 times to maintain their effectiveness over time. It is important to inspect the suit regularly for signs of damage and replace it if necessary.
5. How do I care for my 8 cal arc flash suit?
To care for your 8 cal arc flash suit, follow the manufacturer's instructions for cleaning and storage. It is important to avoid using bleach or other harsh chemicals, as they can damage the fabric and reduce the effectiveness of the suit. Store the suit in a cool, dry place away from direct sunlight and other sources of heat.